Wedding Advisory from Daily Candy- Spring 2006 Wedding Guide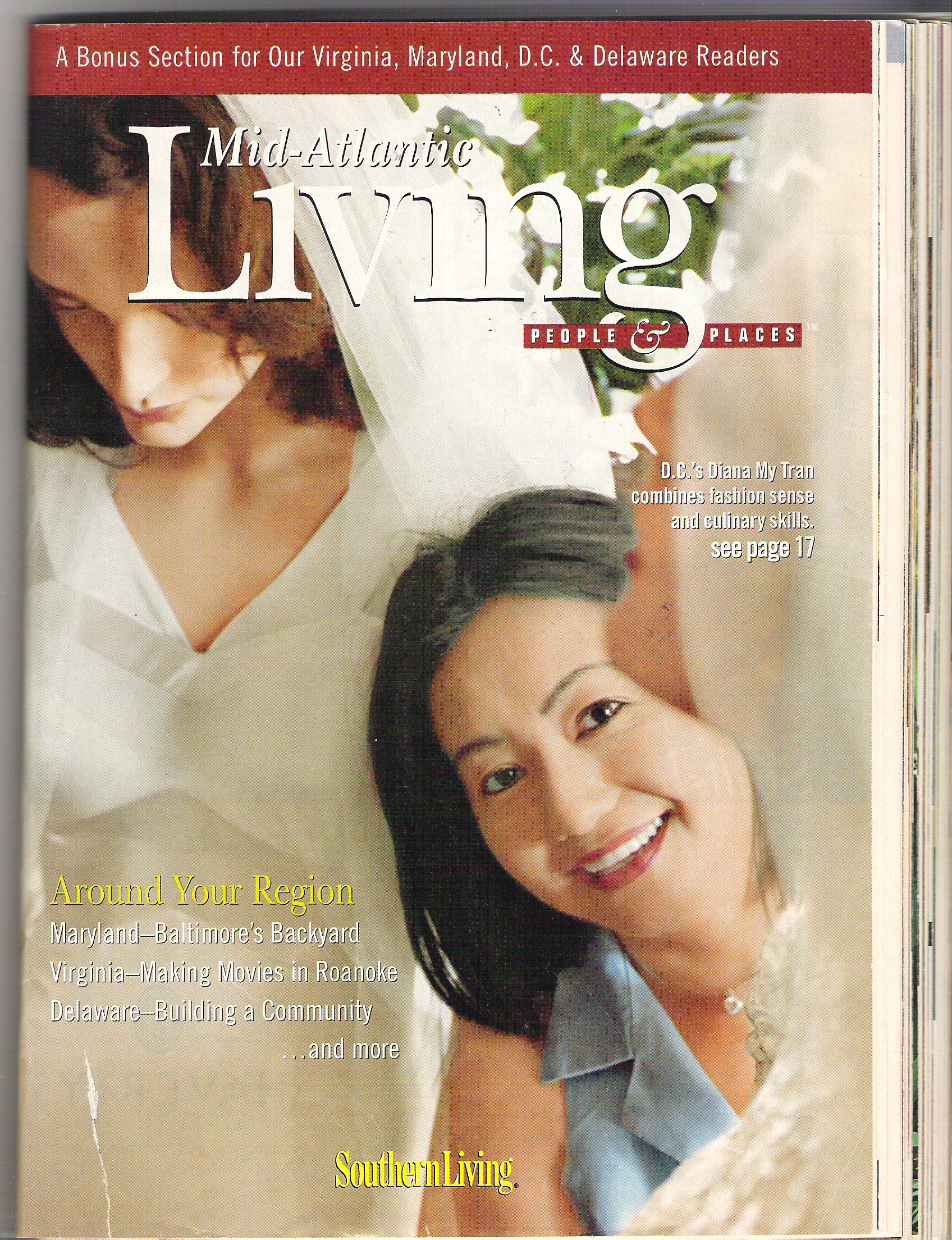 SOUTHERN LIVING
March 2004
Mid-Atlantic Living People and Places
DC's Diana My Tran combines fashion sense and culinary skills

WASHINGTON POST

FOOD SECTION -February 2000
RECIPES
GINGER PINEAPPLE SALAD
(2 Servings)

This is a cooling salad or side dish - and a super slimming lunch.

Ingredients:
1/2 fresh pineapple, yielding about 2 cups pineapple chunks
1 inch piece ginger, peeled and finely minced
1/2 teaspoon salt
10 cilantro sprigs, finely minced
1/2 red chile pepper, finely minced
This is a cooling salad or side dish and a super slimming lunch
1. In a large bowl, mix pineapple chunks, ginger, salt, sugar, cilantro and pepper. Thoroughly toss all ingredients together
2. Refrigerate until serving time.
To serve: This refreshing can be served alone or as an accompaniment to any entree.
VIETNAMESE CLEAR VEGETABLE SOUP
(4 Servings)
Diana have given this recipe to many customers. People want the recipe because it is an appetizing, light, and low-fat soup...slimming and healthy! Use as many different vegetables as you like. This soup is quite filling.
Ingredients
8 medium shrimp or 1/2 cup of lean ground meat (pork, beef, or turkey)
1/4 teaspoon sugar
1/4 teaspoon salt
1/4 teaspoon black pepper
3 cups vegetables (broccoli, watercress, cabbage, spinach -choose your favorites)
3 cups water
1 1/2 tablespoons fish sauce or 1/4 teaspoon salt
Garnish:
5 cilantro sprigs, finely chopped
2 scallions, thinly sliced
pinch of black pepper
Directions:
1. If using shrimp, shell and devein. Use back of cleaver to smash shrimp, then finely mince to a paste. Mix in sugar, salt, and pepper.
2. If using ground meat, just mix in sugar, salt and pepper.
3. Wash and coarsely chop the vegetables. Set aside.
4. In a medium soup pot, bring water to a boil, add shrimp (or pork, beef, or turkey) paste a teaspoon at a time. Skim foam until broth is clear. Add vegetables adn cook 2 minutes, then add fish sauce or salt.
To Serve: Transfer soup to a large bowl. Garnish soup with cilantro, sliced scallions, and an additional pinch of pepper.
Nutrition Information per Serving Using Shrimp: 29 Calories, 0g total fat (0g saturated fat), 18mg cholesterol, 707 mg sodium, 3g carbohydrates, 1g dietary fiber, 4g protein
Good advice is hard to come by — particularly where marriage is concerned. (To wit: Cousin Daphne's conviction about the importance of vinyl underthings; Nana's admonition to never let him see you without makeup.) So when planning your wedding, stick with the classics.
A Stitch in Time Saves Nine
Don't let anyone tell you to get your dress 24 months before the wedding. Diana My Tran of Diana's Couture & Bridal can whip up something in no time (she has been known to work in less than a week). Make an appointment, bring her a picture or an idea and a deadline, and she'll create the perfect gown (1624 Wisconsin Avenue; 202-333-5689).
Please read more at Daily Candy
COUTURE AND COOKBOOK - Southern Living, March 2004
Popular Washington, D.C., dress designer Diana My Tran built her business one stitch at a time.
Diana My Tran's philosophy is as simple as the elegant bridal gowns she creates. "Whatever I do," she tells a visitor to her Georgetown shop, "I have a passion for it."
Diana brings that combination of style and energy to whatever she does, whether it's embroidering a wedding gown, working on a recipe, or helping a needy child back in her native Vietnam.
Sewing a Successful Life
Diana and her husband arrived in the town of Carlisle, PA, in 1975 as refugees from Vietnam. There, young Diana made birthday cakes and doll clothes for friends' children, which led to a job sewing draperies for a furniture store.
A year later, the couple moved to the DC area, because Diana thought living in a big city was an important step toward being successful. She had learned to make clothes in Vietnam while attending a French boarding school run by Catholic nuns. That skill helped her family survive their first years in a large foreign city. "When we first got to DC, I would sew from early in the morning until 3 a.m. the next day," she says. "I also went to school for secretarial training while my husband learned computers."
In 1982, determined to have her own business, Diana rented a small room in Georgetown ad started doing alterations. "People would say, 'you look so young, do you know what you're doing?' But I always guaranteed my work." Word of mouth saved her as Diana's small clientele told their friends of her skills. Soon business was steady.
A Seasoned Sideline
It's clear from the photo that Diana's elegant, unadorned style has won her many followers over the years. "I'm so fortunate to have such good customers," she says. "I'm not only their dressmaker, but also their friend."
A few years ago, several of those longtime friends started asking Diana how she kept her youthful figure and asked for healthy tips. The designer replied that they should eat Vietnamese dishes, which use smaller amounts of meats and oils and more fish and vegetables than American foods.
One customer was so impressed with Diana's culinary skills that she referred her to a cookbook publisher. The result was two books published by Capital Books - The Asian Diet: Get Slim and Stay Slim the Asian Way ($29.95), which Diana penned with two nutritionists, Dr. Barbara J. Moore and Dr. Idamarie Laquatra, and The Vietnamese Cookbook ($25.00). (Both are available at major local book stores and from Amazon.com
Now that she has conquered the world of fashion and food, Diana has started Hope for Children in Vietnam, a nonprofit organization that will provide basic education and health care for children in her homeland. Hope for Children in Vietnam
Her own success is the main reason Diana wants to help others who have fewer opportunities. "I really couldn't ask for more," she says quietly. "I have been very, very lucky."
by Donna Florio
Vietnamese Recipes for Fast Pace of American Life
_____ Editor's Note _____




Early Look offers a sneak peek at a story in tomorrow's Washington Post. The Food section celebrates Asian New Year by taking readers on a tour of Eden Center, the Falls

Church shopping center that is home to more than 100 Asian-owned businesses; there's also a glossary as well as tips for stocking your pantry. Here, meet a Vietnamese woman who believes the key to weight control is eating Vietnamese, light.

You can subscribe to The Post by clicking here.





By Judith Weinraub
Washington Post Staff Writer
Tuesday, February 1, 2000; 11:24 AM

Has your post-New Year's diet let you down?

Are you looking for yet another approach to weight control?

Try Vietnamese food.

At least that's what Georgetown bridal salon proprietor Diana My Tran suggests to her clients when they fret about their figures and ask her for guidance.

"Customers come in and say, 'I gained some weight and I don't know what to do. How do you stay so thin?''" says My Tran. "And I tell them I eat clear soups and salads, and I don't even fuss over preparations because I don't start cooking until I go home at 8 o'clock."

She gives them recipes too – for light foods that are high in flavor and low in calories. Like Vietnamese Chicken Salad. Ginger Pineapple Salad. Clear Vegetable Soup. Asparagus salad. Perfect foods for helping brides get to their wedding looking their best. Because My Tran wants them to look good as much as they do. "I'm very particular about fitting, so I keep tabs on them," she says. "I ask them 'Are you gaining weight? Are you losing weight? We don't want an unexpected catastrophe. I can tell you what to eat, but I'm not a magician.''"

Maybe not, but she's a good Vietnamese cook – and a realist. That's why she's included not only her clients' favorite low-calorie recipes but also more substantial ones in her recently published "The Vietnamese Cookbook" (Capital Books, $25). Each of these traditional Vietnamese dishes has been rethought in light of the faster pace of American life (that is, making dinner after you get home from work) and the kind of fresh ingredients available in American supermarkets.

If My Tran's 5-foot-1, size-4 figure hadn't inspired her customers, the book might never have come to be. But by chance one day she told a client who liked her recipes that she wanted to write a cookbook. The woman put her in touch with Rue Judd, a local publishing entrepreneur, who liked the idea and eventually shepherded the project through the intricacies of publication. Gathering recipes that she thought Americans might enjoy, My Tran put the book together quickly – with friends and family getting into the act.

Both her daughter, Diana, 17, and Judd tested all the recipes, and My Tran's 24-year-old son, John, whose Americanized palate has been educated by a standard Italian/Indian/barbecue and sushi diet as well as Vietnamese specialties, tasted them. "She needed a guinea pig," he says. "And I'm usually good about what I like and dislike." Together, Judd and My Tran shopped at Vietnamese grocery stores at the Eden Center in Falls Church for harder-to-find ingredients. And in a final two-day whirlwind, My Tran cooked all the dishes for the book's photo shoot.

My Tran's book and bridal shop are just two examples of the way her life has been transformed since April 29, 1975 – the day before North Vietnamese troops captured Saigon – when she fled the city with her youngest brother, her husband and his parents.

She was 19 and pregnant with her first child. Her comfortable upper-middle-class life hadn't prepared her for life in a totally different culture. She'd been to a French boarding school. She came from a family with servants. Her new husband had an excellent job. She'd already had a year of college. "It never occurred to anyone that we'd have to leave," she says.

But, with the impending collapse of the South Vietnamese government, they did. "The atmosphere was very crazy," she says. "There was no law, no police. Anything could happen." After managing to get onto the last Vietnamese Navy ship able to leave, the family went first to the Philippines and from there, courtesy of the U.S. Navy, to Guam. But there they found they needed a sponsor to get into the United States. By then, 8˝ months pregnant, far away from her family, My Tran was in despair. "I was totally lost, confused, totally homesick," she remembers.

Eventually, a Lutheran minister in Carlisle, Pa., stepped forward, and they found themselves in a small, very foreign town where they had to reinvent their lives – not to mention figure out how to support themselves. Somehow her husband got factory work, and My Tran was hired in the drapery department of a local furniture store – she'd loved to sew since she made clothes for her dolls when she was a little girl. But the couple was filled with worry: They didn't know if her parents were alive or dead, and their new baby was jaundiced, had a heart murmur and needed an operation.

New friends and neighbors rallied to help. But even food was a problem. My Tran was expected to cook traditional Vietnamese dishes for the family, but she couldn't find familiar ingredients. The nearest Asian grocery was 20 to 30 miles away, and she didn't have a car. "There wasn't even a Chinese restaurant," she says.

Gradually, she learned to improvise. Then in 1977, the family moved to Northern Virginia, where her 17-year-old brother was living, and where her husband could get computer training. Thrilled to find Asian ingredients, My Tran threw herself into cooking and soon it became a kind of salvation. Vietnamese specialties. French dishes like the food she'd eaten at school. Birthday cakes and wedding cakes, which she knew how to make thanks to a baking and cake-decorating class she'd taken in Vietnam. To her delight, she found she could sell her cakes. "Cooking made me forget other things," she says. "Bad things."

As she made her way through a series of mostly secretarial jobs – each a little better paying – cooking remained the cultural constant in her life. (Her eating pattern is more or less the same as it was in Vietnam too. Coffee with milk and sugar for breakfast. A cup of soup or a bowl of rice for lunch, sometimes with leftover mixed vegetables or a bit of meat or chicken. A restrained snack of coffee and one cookie at 4 in the afternoon, just as she did as a schoolgirl. And Vietnamese food for dinner. Dessert is fruit or an occasional Vietnamese pudding if she craves it. With this primarily Asian diet, she eats very little bread, though once in a while she enjoys a sandwich from the French pastry shop across the street from her shop, Diana's Couture and Bridal at 1624 Wisconsin Ave. NW in Georgetown.)

As good as she was at her jobs, over the years My Tran yearned to be her own boss. "I'm an entrepreneur," she says. "I like to work for me." When a friend offered to loan her the money she needed to open her own shop as a designer and dressmaker, she jumped at the chance.

For the first few months, until she began to build a client base, it was frightening. But gradually customers came. "I'm a survivor," she says. Since December 1982, when she opened her shop, My Tran has been able to construct a life right out of the American dream. She has an assistant now to help her with the business; she sings traditional Vietnamese music with Huong Xua, a local group that's performed several times in the Smithsonian Folk Life Festival; she still makes wedding cakes and (of course) dinner for the family. And she dreams of having her own restaurant one day.

All this doesn't leave her much time to eat. She's still the same size she was on her wedding day. So, dieters, take note: Maybe her petite frame isn't just because of Vietnamese food.

© 2000 The Washington Post Company